As Computer Scientists, we find programming funny. But how to convey this interest to children? How to explain them all the possibilities that programming can offer, like solving puzzles? And where to start?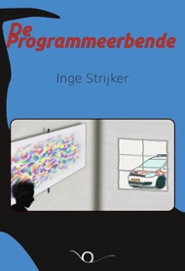 Inge Strijker and Felienne Hermans give us answers. They wrote the Dutch children book 'De Programmeerbende' about how to solve a mystery with programming. Written as a novel, it encourages primary school aged children to start to learn how to program, and make them enthusiastic about it.
In the book 'De Programmeerbende', the children characters program as part of a wonderful adventure. And the reader can learn how to program while reading! All the programs in the book can be copied and used in the Scratch programming language. Children can modify them to make their own scripts.
The main character is based on the personal story of the co-writer Felienne Hermans during her young years. She is an associate professor of Programming Education at Leiden University. The second co-writer, Inge Strijker, is a researcher and teacher of HBO-ICT at Windesheim University of Applied Sciences.
Visit the website to learn more about it (in Dutch): https://www.programmeerbende.nl